We were delighted to have Michael Hunter (Instagram alias @fortyyearolddad) join our No Man Left Behind campaign. A filmmaker and writer, Michael has been active in raising awareness around the male fertility experience, sharing his own story and struggle. Our #NoManLeftBehind campaign focuses on men who have been open about their fertility journey to remind men they are not alone. We also want to ask the TTC community what we can do as industry professionals to ensure all parties struggling with fertility feel supported.
Michael started his Instagram account this January, with tales of frustration and heartbreak alongside joy and success. He was kind enough to answer a few questions for us on his motivations for starting the account.
Can you tell us a little bit about yourself?
Where do I start? I'm a drama school graduate who switched sides and am now a freelance filmmaker (if you need any video work doing let me know). I'm married and have been for 12 years to Helen, we met at work when I worked in social care. I'm a fan of West Ham, and still like to think I'm 23.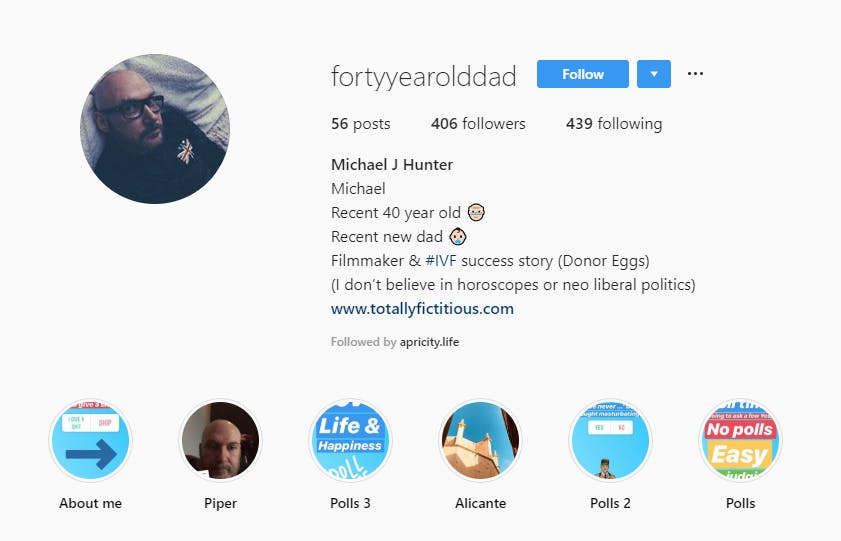 What made you start your Instagram account?
We shared an account during our infertility journey and my wife used it more than I did, but her audience wasn't like the one I wanted to reach. So as soon as my daughter was born I started my account, I felt like as an older dad I wanted to share and relate to other dads and in particular older dads. So the name kinda speaks for itself: @fortyyearolddad
What did you find most difficult about the fertility journey?
For me it was (and very much still is) that it took us so long to conceive. We're both older now and that guilt of not doing all this 12 years ago is agonising still. I feel like infertility has robbed me of years of fatherhood I'll never be able to get back, I'll be 60 when my daughter turns 20, I could be 70 when I become a grandad—I worry that I might not be around for her wedding, or be too old to babysit my grandchildren. 
Where did you look for to find support?
 Our NHS clinic was great, with the limited funds they had made sure we had the time and opportunity to understand why we were on this journey. That helped an awful lot when it came to going outside the NHS for treatment, we weren't clueless although we still didn't have all the answers either. My wife used lots of forums and spoke to lots of women about their journey too which she continues to do and has made some amazing friends from it. 
What message would you have for men who are experiencing fertility struggles?
Talk about it, talk to your partner, talk to your friends, it's not taboo. Infertility is just something some of us have to do in order to become parents. We both felt like we wanted to be as open as we could with everyone about our infertility and to set an example to others to feel confident in talking about it, it's hard but for me it really helped own it and deal with the situation without the added stress of "who do you tell?" Just tell everyone, not to have people feel sorry for you, but to understand how hard you're trying, plus it quickly shuts down the awkward "when are you going to have children" thing.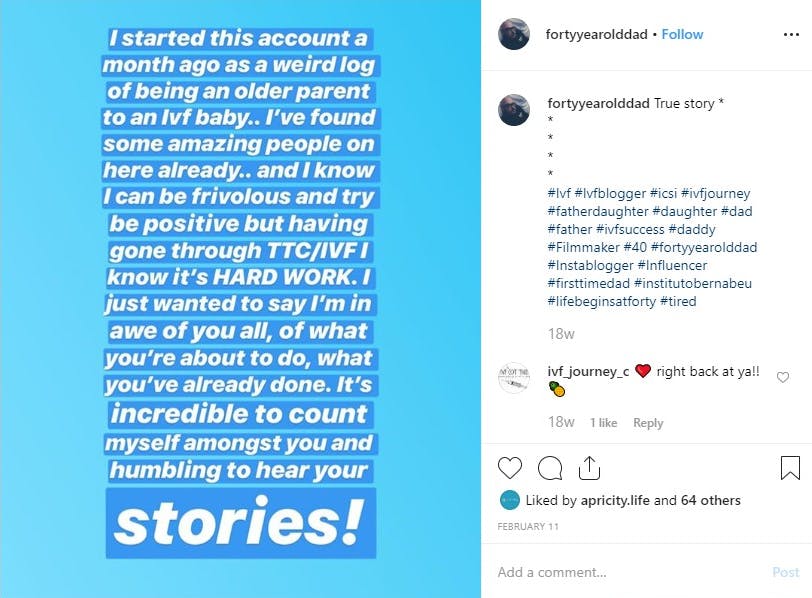 What aspect of fertility treatment did you find most frustrating?
For me it's that the science is ever evolving and when you see the process abroad, Spain for us, & what they can do compared to what's on offer here it's very frustrating. Over here it's either the NHS can't afford to offer these tests and treatments, or for the private clinics think the small percentage increases don't merit the cost. As a person who has lived with infertility those small percentages mean the world to me. They're what give you hope, and in a place where Hope is ever fleeting that is massively important.
Michael's account can be visited on instagram.com/fortyyearolddad. To learn more about our #nomanleftbehind campaign or share your story, drop us a line on our Facebook or Instagram.