Wednesday 8th September 2021
Dr Luca Sabatini, Consultant Gynaecologist and Obstetrician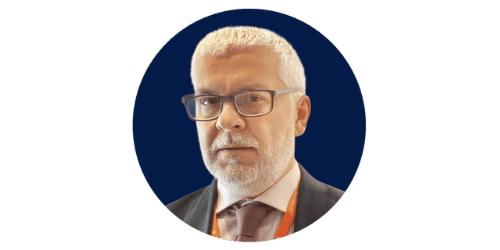 We are incredibly pleased to welcome Consultant Gynaecologist and Obstetrician Dr Luca Sabatini, who joins Apricity as Chief Medical Officer. 
Dr Sabatini brings a wealth of clinical and academic experience of reproductive medicine to Apricity. He has served as the Clinical Director of Barts Health NHS Trust Centre for Reproductive Medicine & Surgery since 2011 and was the Reproductive Medicine & Surgery clinical lead for the East London Women services, which comprises four satellite units across four large NHS hospitals. He is a Royal College of Obstetricians and Gynaecologists accredited training director for Reproductive Medicine and an Honorary Senior Lecturer at the University of Queen Mary's, where he has taught since 2008.
Dr Sabatini qualified in Medicine from 'La Sapienza' University in Rome, Italy in 1991. It is here that he began to develop his specialism in male and female reproductive endocrinology that he has built throughout his career. He is the co-author of 36 scientific publications in international peer review journals, three book chapters, and reviewed for international scientific journals including The British Journal of Obstetrics and Gynaecology (BJOG).
Dr Luca Sabatini commented on his appointment: "I have joined Apricity because I truly share the ethos of the founders to find new methods of providing fertility services to patients. Having worked in the fertility field for more than 25 years as a doctor, and having had my own personal experiences as a patient, what has struck me is that the challenges for patients have remained consistent over this time. Patients continue to have difficulty in getting appointments, receiving consistent communication, accessing services, and the success rate has not increased in line with expectations."
"Apricity's use of technology has the potential to drastically improve the experience of patients. The ability to offer quality service to patients remotely, wherever they are, is incredibly powerful in itself. This, combined with the utilisation of expertise from leading physicians scientists within the application, and the innovative use of data, has huge potential to improve success rates in fertility and the quality of patient care."
He also brings personal experience with IVF, which means he has an acute understanding of the challenges of the process from the patient perspective.
"Myself and my wife had several rounds of IVF to conceive our first son. We made a common mistake: going from one clinic to another to try to fulfill this dream. Eventually we faced the reality that we were fortunate to have our first son, and the second one would never come. We went down the egg donation line and we also went down the adoption line. So I think we did a full circle." 
"I don't believe there's going to be a person or a couple who is childless. I think it's a matter of being guided correctly through the journey. I always put myself in the shoes of the patient. Think what you would do if it was you - you cannot fail a patient. There's always a way."
As Chief Medical Officer, Dr Sabatini's role will be to help implement the clinical strategy and deliver on Apricity's mission of "less stress, more success" for the patients. 
We could not be happier to have such a wonderful doctor joining our team, and look forward to continuing our mission of more supported, successful fertility care together. 
For more information, please get in touch with us.
Get in touch